Join the IMW 2017 Virtual Meeting
The IMW 2017 Virtual Meeting is available to all meeting registrants at no charge. To access the Virtual Meeting you will be required to enter your registration confirmation number. If you can not locate your registration ID you may contact IMWregistration@spargoinc.com.
If you did not attend the 2017 IMW and wish to view the content you may purchase an access code. The price per access code is $450.00. The access code is limited to one user and may not be shared with others.
---
The International Myeloma Society is the official organizing body for the International Myeloma Workshops, the prestigious biannual event that brings together myeloma experts from around the world.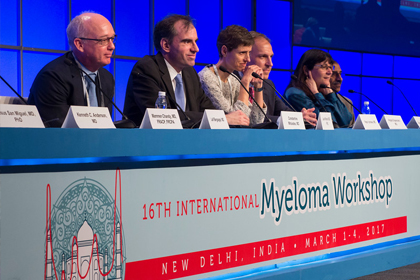 The International Myeloma Workshops are the defining meetings in myeloma with a focus on both the basic, preclinical and the clinical aspects, including:
Scientific Programs
Oral Presentations (on Basic Biology, Preclinical Studies and Clinical Studies)
Consensus Panels
Poster Presentations
We invite you to read more about our upcoming workshops.
Learn more about the publications from our last International Myeloma Workshop (India, 2017).
---
Upcoming Meetings
2018 IMS Educational Series
For 2018 we are hoping for four courses in Sao Paulo, Athens, Hong Kong and Tampa FL.

Additional Meetings
2018
COMy - May 3-5, 2018, Paris, France- The 4th World Congress on CONTROVERSIES IN MULTIPLE MYELOMA (COMy)
A 50% discount for IMS members who wish to attend COMy 2018- Registration Form
Program
ASCO - June 1-5, 2018 - McCormick Place, Chicago, IL
EHA - June 14-17, 2018 - Stockholmsmässan, Stockholm, Sweden - 23rd Congreass Euorpean Hematology Association
September 1, 2018 - VII International Conference - Complex treatment of plasma cell dyscrasia in 2018. Kraków, Poland- Program
ESH - October 5-7, 2018 – Mandelieu, France- 4th International Conference on Multiple Myeloma
Chairs : Kenneth C. Anderson, Maria-Victoria Mateos, Philippe Moreau
Program
ASH - December 1-4, 2018, San Diego, CA- 60th Annual Meeting of American Society of Hematology
2019
17th IMW - September 12-15, Boston, MA, USA
2021
18th IMW- Vienna, Austria