---
The International Myeloma Society is the official organizing body for the International Myeloma Workshops, the prestigious biannual event that brings together myeloma experts from around the world.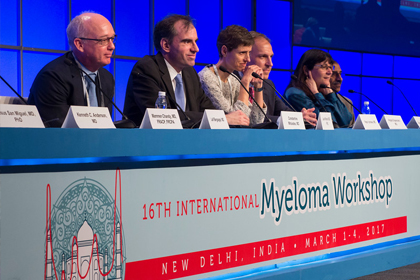 The International Myeloma Workshops are the defining meetings in myeloma with a focus on both the basic, preclinical and the clinical aspects, including:
Scientific Programs
Oral Presentations (on Basic Biology, Preclinical Studies and Clinical Studies)
Consensus Panels
Poster Presentations
We invite you to read more about our upcoming workshops.
Learn more about the publications from our last International Myeloma Workshop (India, 2017).
---
Upcoming Meetings

Upcoming IMS Educational Workshops
More programs will be added for 2020. Please check back for updates on dates. All sites and dates are subject to change.
2019 - Turkey
2020 - Poland
2019
COMy - May 16-18, 2019, Paris, France- The 45h World Congress on CONTROVERSIES IN MULTIPLE MYELOMA (COMy)
A 50% discount for IMS members who wish to attend COMy 2019- Registration Form
Program
ESH - April 5-7, 2019 - How to Diagnose and Treat Multiple Myeloma, Berlin, Germany
Chairs: Hermann Einsdle, Irene Ghobrial, Sonja Zweegman
ASCO - May 31-June 4, 2019 - McCormick Place, Chicago, IL
EHA - June 13-16, 2019 - Amsterdam, Netherlands - 24th Congreass Euorpean Hematology Association
17th IMW - September 12-15, Boston, MA, USA
ASH - December 7-10, 2019, Orlando, FL- 61th Annual Meeting of American Society of Hematology
2020
Educational Workshops - TBD
2021
18th IMW- Vienna, Austria